Your Cosmetic Dentist Richmond, BC
Our Cosmetic Dentistry Procedures
Cosmetic dentistry has taken great strides, creating advances and procedural developments that provide patients with a vast assortment of options designed to transform the overall appearance of less-than-perfect smiles into beautiful ones. Each of the cosmetic procedures that we offer has a specific purpose in mind and a unique process that must be completed.
Some of our cosmetic procedures are designed to whiten yellowing teeth or minimize the appearance of discoloration and food stains, while others are intended to re-align the teeth, eliminate dental decay and repair the damaged tooth, replace missing teeth, or strengthen damaged teeth. Together, all of these cosmetic procedures can completely transform the look of a patient's mouth to a more pleasing appearance.
Book An Appointment With Your Local Dentist In Coppersmith Corner
A cosmetic treatment that uses a special bleaching agent to whiten the coloration of tooth enamel.
Our clinic offers both in-office custom formulated whitening solutions and at-home whitening trays by Poladay. Brighten your smile safely in just one visit, or over time on your own schedule.
In-office whitening lasts about 90 minutes and whitens stained teeth up to 7 shades, instantly. Take-home whitening with custom trays takes about 30 minutes each day and whitens your teeth several shades in under 2 weeks.
But remember that whitening treatments only work as long as you are practicing good dental habits and are mindful of stain-causing liquids like red wine, coffee and dark colas.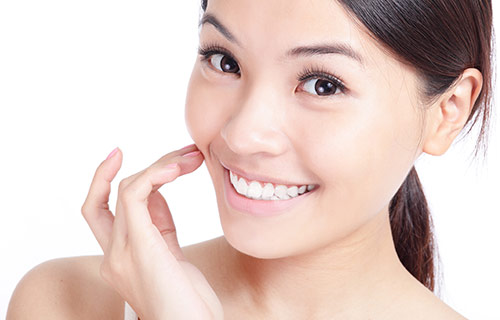 Book An Appointment With Your Local Dentist In Coppersmith Corner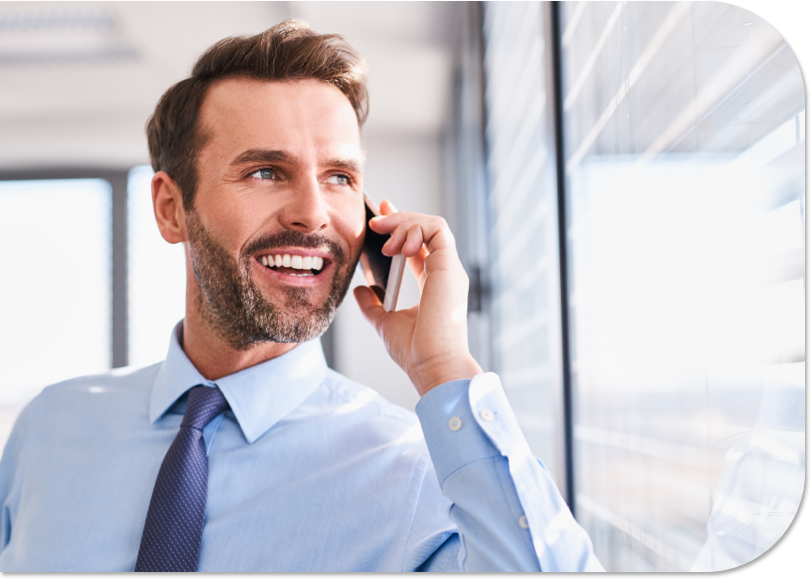 Veneers are cosmetic shells bonded to the front of teeth, creating a facade that also protects your smile. Our dentists use porcelain veneers, perfectly shaded to match the colour of your real teeth to create a set of natural, perfect pearly whites.
Veneers are used to correct badly worn, chipped, stained or crooked teeth in the front of the mouth. Usually a two-step process, our dentist will first remove part of your existing tooth to make room for the Veneer, essentially making the procedure irreversible. Eventually after a few years, veneers do require some maintenance to look their best. Talk to us to find out if they are right for you.
Book An Appointment With Your Local Dentist In Coppersmith Corner
Crowns and most bridges are cosmetic prosthetics fixed to your teeth. We use porcelain or gold to craft both crowns and bridges, bonding them to your teeth and carefully matching the colour to the rest of your smile. Crowns and bridges make your teeth more attractive, improve your bite and protect your smile all at the same time.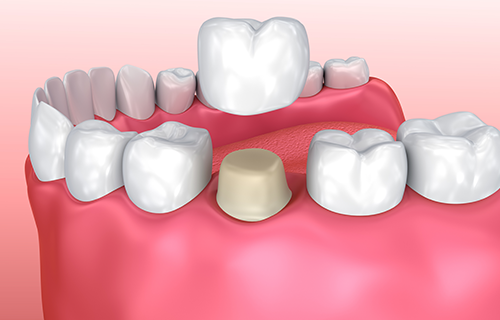 A cosmetic process that covers a severely damaged tooth with a synthetic cap (crown) to protect it and restore functionality to the tooth
Crowns are typically used by our dentist to cap or cover a damaged tooth, or to repair and protect an existing tooth.
The use of a fake tooth attached by two crowns on adjacent teeth to replace a missing tooth.
Bridges are commonly used to fill a large gap or a space between teeth. A bridge is often an alternative to a dental implant or orthodontic work, for which many insurance plans will offer partial coverage.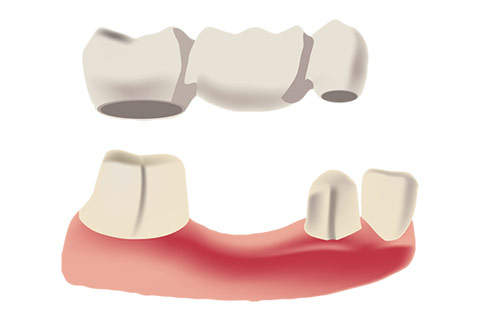 Book An Appointment With Your Local Dentist In Coppersmith Corner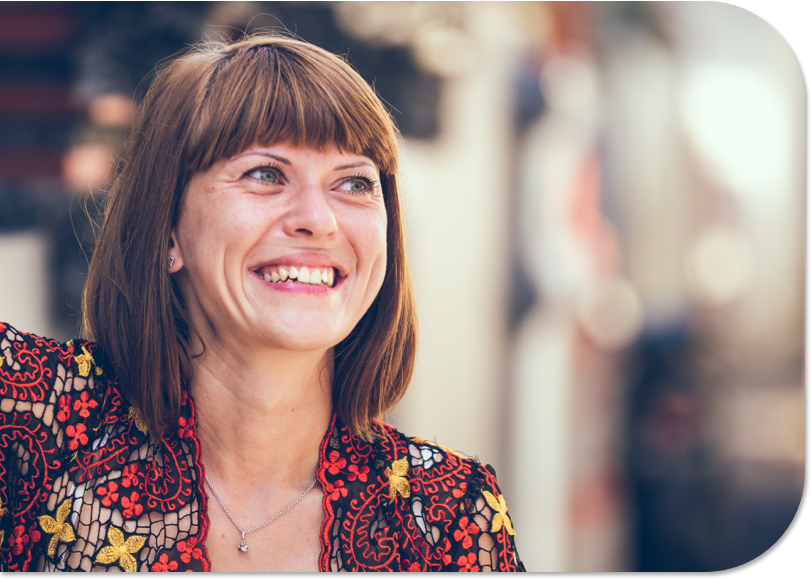 Dental implants are used to restore areas of your mouth where teeth have been lost. A titanium post is placed in the jaw bone and a prosthetic tooth is attached to this post to restore the area without having to touch the teeth on either side of the space. The implant replaces the missing tooth and acts as a new root of the tooth.
Dental implants can also be used to attach dentures to increased retention and stability.
Book An Appointment With Your Local Dentist In Coppersmith Corner
An orthodontic treatment that uses clear aligner trays to straighten the teeth.
Have you always wanted to straighten your teeth but didn't want to commit to a long-term treatment plan? Or are you self-conscious of wearing brackets and wires? If so, Invisalign® treatment may be the solution for you.
Here at Coppersmith dental, our dentists are highly skilled at straightening with Invisalign treatment. The whole process involves a series of clear trays that must be worn 20-22 hours per day, slowly and gradually moving your teeth into correct alignment–no extractions necessary. This avoids the pain experienced by traditional braces, and allows for treatment to be completed within a year.
With Invisalign clear aligners, you get to eat all of your regular foods, as well as brush and floss normally. This is because the clear trays are removable and don't interfere in the same way that traditional braces do. Each tray is worn for 2-week periods, after which the next tray in the series is used. Regular dental appointments every 6-8 weeks are necessary to make sure that progress is going according to schedule. And right from day one you will be able to see the final projected result with the 3D imaging software that we use in the office.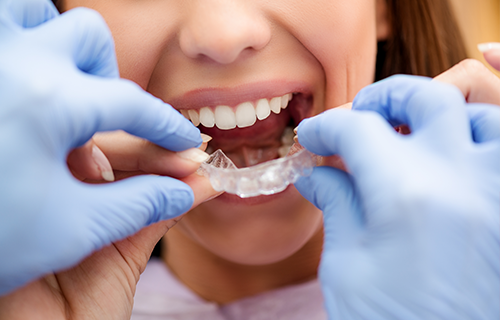 Invisalign treatment goes beyond just straightening teeth. It can even correct problems such as overbite, underbite, crossbite, as well as others. Remember that teeth that fit well together function better, and that a high level of oral health corresponds to a greater likelihood of better overall health. Straight teeth also help to facilitate more efficient brushing and flossing, which works to prevent problems like gingivitis and tooth decay.
The cost of Invisalign treatment is similar to the cost of traditional braces, but with the more pleasing appearance of the trays, and the reduced difficulty while eating and cleaning, the value of Invisalign treatment is extraordinary. Invisalign treatments include your consultation, trays, assessments, and all follow up appointments.
In less than a year you can have a beautiful smile just in time for your graduation, wedding, anniversary, or other significant milestones. And it's never too late to start, no matter your age!
If you have any questions regarding Invisalign treatment and would like to learn more, book your complimentary consultation. Your new smile is just around the corner.
Book An Appointment With Your Local Dentist In Coppersmith Corner
We are happy to provide both Invisalign and traditional fixed braces. Most cases are completed in under one year and do not require any extractions. We will work with your dental plan to maximize your benefits.
Before and After Braces
Shown are before and after photos featuring a 9 year old patient. He had a severe under-bite (his upper teeth were tucked behind the lower front teeth), which is referred to as class 3 malocclusion. Coppersmith Dental built an appliance that opened up his back teeth for a few months, to make space for the upper front teeth to hop over the lower front teeth.
He had fixed braces on his top teeth only and wore a retainer after the treatment. Overall, his treatment only took approximately three months.
Book An Appointment With Your Local Dentist In Coppersmith Corner
A complete transformation of the appearance of a patient's smile.
Dental science has advanced to the point where our team is able to give almost anyone a movie star smile, regardless of the state of their teeth. We use a combination of procedures to straighten, whiten, and fix chipped or decaying teeth which may have been considered beyond repair.
From veneers to dental implants, we use the very best state-of-the-art dental technology to turn your smile around, improving your bite, oral health and overall confidence at the same time. Talk to our dentists about a customized treatment plan that will help you realize the true potential of a wonderful smile.
Book An Appointment With Your Local Dentist In Coppersmith Corner